GOOD NEWS! So its finally starting to cool down. hip hip hooray! But with colder weather comes dryer air which produces static in the air. BAD NEWS for our hair!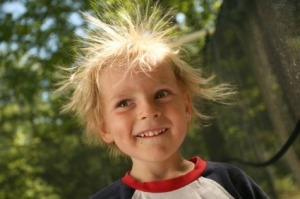 FLY AWAY CENTRAL takes over and frustration sets in!!! How to fight back!...here's a few tips. enjoy
*always use conditioner after shampooing (make sure you are using a moisturizing one). I would recommend using a deep conditioner once or twice a week
.
Redken natures rescue is a great one.
*use a leave in conditioner
soy tri-wheat by healthy sexy hair is a great choice.
*use some kind of hair oil/smoother to help moisture in and lock static out
I would recommend miracle oil plus keratin by its a 10
*use a natural bristle hair brush
*use a blow dryer that is ionic, they keep help keep moisture in your hair
*when all else fails...static guard yep you heard me right static guard. spray on when hair is dry and you see static...use like you would use a hair spray product..hold at least 12 inches away and don't go over board! You could always just spray on a brush and brush it threw as well.
***other helpful tips**
use a humidifier in your house
use dryer sheets
HAPPY NOVEMBER!